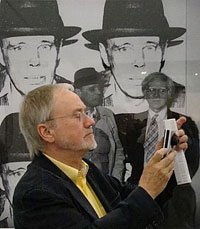 Dieter Rübsaamen
Born in Wiesbaden, Germany in 1937, raised in Maxsain / Westerwald, Germany before studying law
painting since 1957, autodidact.
Exhibited in over 100 exhibitions in Germany and abroad since 1962.
In 1990 awarded an art scholarship from the City of Bonn.
Awarded the August Macke Laureate of the City of Bonn in 2008.
Works are currently held in numerous collections.
Lives in Bonn.